At 36, Frank Lampard retires from England duty.
England's central midfielder, Frank Lampard retires from international football at the age of 36. His retirement comes in 2 weeks before England's European Championship qualification. Lampard made his international debut in a friendly game against Belgium on October 10, 1999.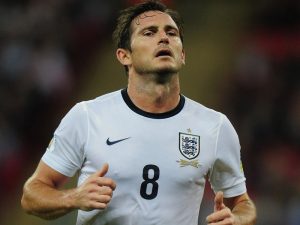 Since his debut in 1999, the midfielder has scored 29 goals in 106 matches for England and he played his last match for England in the World Cup in June 2014. In a statement, Lampard said, "It has been a very tough decision for me to make, which is why I have given it so much thought since the World Cup… I have always been exceptionally proud and honored to represent my country and have to say looking back I have enjoyed every minute of wearing the England shirt."
In the domestic circuit, Lampard played for Chelsea for 13 years, before being released by the club at the end of the 2013-2014 season. In his 648 appearances for Chelsea, Lampard scored 211 goals – he holds the record for the highest number of goals scored by an individual at Chelsea. He is currently on loan at English club Manchester City from American club New York City.
Frank Lampard is following in the footsteps of former England teammate Steven Gerrard, who also announced his retirement from international football in July 2014. Roy Hodgson, the new England manager, will announce the name of the new England captain at a press conference that is to be held on Thursday, August 28, 2014.