The Scottish island of Colonsay faced water shortage after residents went into a frenzy over the Ice Bucket Challenge.
Residents of Colonsay, a Scottish island in the Southern Hebrides, faced massive water shortage after they went overboard last weekend with the extremely viral Ice Bucket Challenge campaign for amyotrophic lateral sclerosis (ALS). With a population of just over a 100, the island runs over 10 miles and has a water system that cuts the supply to curb wastage and has to be manually reset. The island's water company has been reported to have sent out engineers at least five times over the weekend.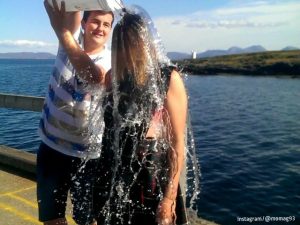 Meanwhile, supermarkets such as Tesco in Simonside, South Shields seemed to apparently ran out of ice due to the same reasons, as people walked out with bags full of ice to be a part of the campaign. As per store owners, the only time there is a shortage of ice is during the World Cup.
Known popularly as the ALS Ice Bucket Challenge, the campaign involves dumping a bucket of ice water on someone's head to promote awareness about the disease and encourage people to donate for research. Individuals undertaking the challenge further nominate participants, who then have only 24 hours to comply, failing which they have to make a financial donation to the ALS Foundation in the US. In the UK, people participate and donate for the Motor Neurone Disease Association.
The challenge has caught on like wildfire on social media networks since it began two months ago.
Photo Credits: Mail Online