Mega-retailer Tesco has revealed Surprize – a new apple variety.
UK's largest retailer, Tesco, has unveiled a new variety of apples that it likes to call 'Surprize'. The new variety of apple has a yellow skin and the inside flesh is pink. Surprize will go on sale from today, September 16, 2014. The apples will be sold across the 120 Tesco stores in the United Kingdoms. The apples will retail for £1.75 for a pack of four.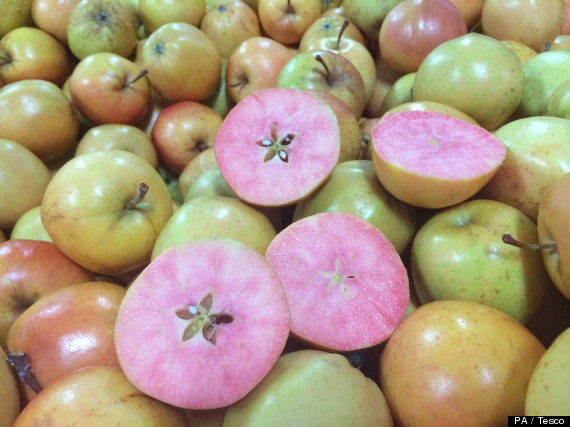 Grown in orchards in Tillington, Herefordshire, these apples are developed by William Barnett – who is an award-winning grower. Earlier, William Barnett had created the Rosette Raspberry Ripple apple, which had red flesh.
Ciara Grace, Tesco fruit product developer said, "This apple is a real head-turner and literally stops people in their tracks on account of its unusual pale orange and yellow skin."
Tesco has described the apples as "sweet and aromatic". Surprize got its name by the reaction that people have when they see a pale yellow apple with a pink flesh.
Currently, the supply of the apples will be limited to gauge the response it has. If things go well, then production would be stepped up next year.
Talking about the new variety of apples he has created, William Barnett said, ""My apple mission is to develop better and more interesting varieties of English apple. I set off on that mission 10 years ago and since then have helped develop several popular new varieties including the Red Windsor; Tillington's Delight and the Rosette Raspberry Ripple."