THE BOOK ON F FACTOR DIET BY TANYA ZUCKERBROT – AN EXCELLENT BOOK ON FIBER DIET WHICH WILL MAKE YOU FROM FAT TO FIT.
The 200-plus page book offers more than 75 delicious recipes from appetizers to desserts and also with a complete set of guidelines for those who are lazy or do not know cooking. ournal pages and helpful hints to keep dieters on track," the publisher's review says on Amzon.com about the book.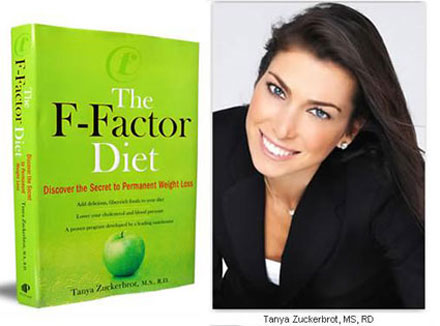 According to the author of the book "the F Factor Diet", fiber, which is the zero-calorie non digestible part of a carbohydrate, is the secret to losing weight without hunger. Zuckerbrot says on her website ffactordiet.com "the more fiber a food has, the fuller you will feel after eating, leading you to eat less throughout the day"
Tanya Zuckerbrot MS RD is a nutritionist who has appeared on many television programs including The View, The Rachael Ray Show, The Today Show, and Good Morning America. She is the official dietitian of the Miss Universe Organization and a regular contributor to Men's Fitness Magazine.
Most diets focus on foods for weight loss, diabetes control, F Factor Diet has many good things to offer, reduction of heart diseases, RD Tanya Zuckerbroth adds a nutrient that creates and optimal weight loss plan and that is FIBER – F stands for fiber of course.
This F-factor-diet emphasizes on the use of fibrous foods. The theory behind the F-factor diet is that whatever you eat, if you eat enough fiber, you will feel full quickly and you will not over-eat and get your weight under control. Its stresses the importance of fiber in each meal.
Fiber controls blood sugar levels. When refined carbohydrates are consumed, they are rapidly digested and absorbed into the bloodstream. The pancreas releases insulin in response to the elevated glucose levels. Many diet experts believe that the glucose-insulin response is responsible for excess weight gain. A high-fiber diet creates less of a glucose increase and keeps hunger at bay.
Not many would like the F Factor diet, however the F Factor Diet has many good things to offer.
The F Factor diet not only promotes weight loss but also improves the our skin and hair, its gives our body more energy levels and helps in reducing the risk of cardiovascular diease, diabetes, cancers like breast and colon. The F factor diet is a favorite among the hollywood elite The poplular foods which are high in fiber is gaining ground due the ability to feel full without the associated calories. With the F Factor diet you can shed pounds without giving up favourites like cheese, wine and even while eating out. Here are the 3 stages which this diet F=Factor offers, which must be followed:
1. Detox 2. Continued Weight loss 3. Maintenance
The foods that are rich in fiber are fruits, vegetables, whole wheat breads and whole wheat crackers. The diet allows you to also eat low fat meats and cheese.
These are the recommended High Fiber Food recipes:
Fiber Crackers
In Fruits you can have (raspberries, strawberries, blueberries, pear, apple)
In Vegetables you can have (salad greens, broccoli, asparagus, sweet potato, cabbage)
Whole Grains you can have (brown rice, whole wheat bread)
Beans and Legumes you can have(garbanzos, black beans, lentils, pinto beans)
Nuts you can have (peanut butter, almond, pistachio, walnut)
Fiber One Cereal
Other foods encouraged are lean proteins such as chicken and broiled salmon.
The book and website contain low calorie menus – approximately 1100 calories per day. On an average American eats more than this in a 24-hour period, the reduction of calories should produce about a 1 to 2 pound weight loss a week. A section in this book also gives tips to help dieters follow the meal plan while eating out.
Still, like other fad diets, this F-factor diet has a set of rules, like a 3-stage program. That is understandable. If a diet is as simple as one phrase "eating more fiber", then will be no f factor diet.com and this "The F Factor Diet" book. If all can follow that program or lengthy advice on how this F Factor Diet is used, good for them. But you need worry if they can't, because many people who have never heard of the F factor diet like the writer are able to maintain a great shape.
However, for those who don't have much of any idea to prepare and enjoy their meals, this F factor diet is highly recommended.
The F-Factor Diet published in December 2006 a can be found at most book outlets and website.