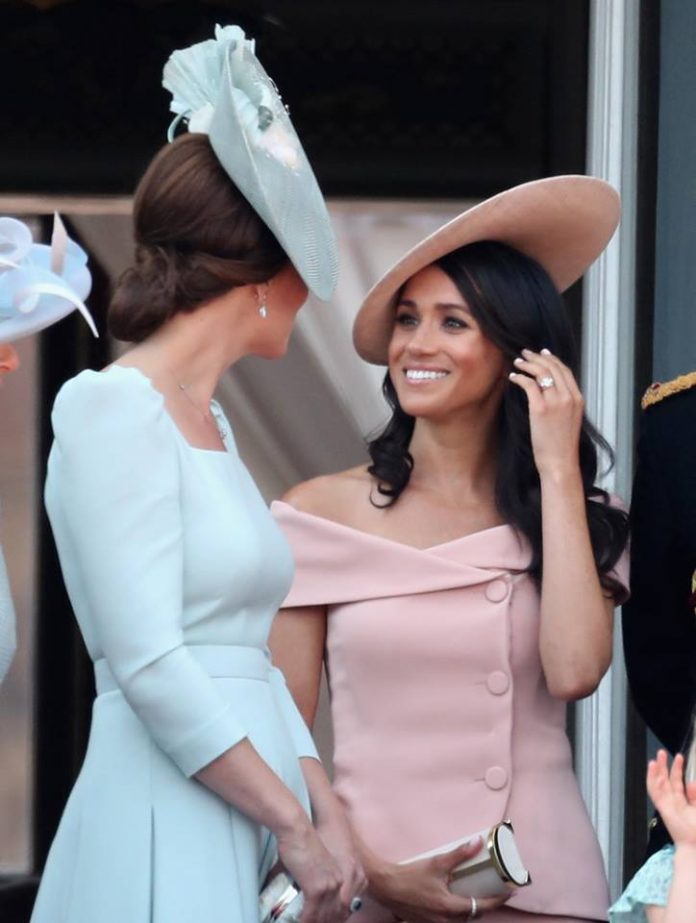 Hollywood actres and now a member of the British Royal family, Meghan Markle attended Queen Elizabeth's grand birthday celebration which is also known as Trooping the Colour. The former Hollywood actress was seen dressed in a stylish Philip Treacy hat and Caroline Herrera outfit and looked great but broke a royal fashion protocol.
Markle along with the other members of the Royal family were present at the Buckingham Palace balcony for the traditional flyby while many eyes were on Meghan's neckline. Meghan indeed looked pretty in an off-shoulder blush outfit that might have been against the royal fashion protocol and also invited criticism over the weekend. According to the royal fashion traditions, the women are expected to wear conservative necklines and particularly at the Trooping the Color.
Even late Princess Diana, who was known for breaking various royal rules, never ventured beyond long sleeves at the grand birthday celebration of the Queen. There were many people who expressed their disappointment over the inappropriate outfit but nobody from the balcony seemed to have been bothered. Meghan was in fact seen chatting the entire day with Prince Charles and was also seen joking around Prince Harry. The actress was also seen having a few moments with sister-in-law Kate Middleton. Meghan's outfit was also set apart from Queen Elizabeth. Kate Middleton and Camilla were seen dressed in a powdered blue outfit. That might have happened coincidentally but some royal experts opined that it was done deliberately to show how unified the family was and Meghan did not go by the uniformity.
The event of Trooping the Colour marked the second official royal engagement for the new Duchess of Sussex. The first was her father-in-law Prince Charles' birthday party. Meghan  Markle was careful during the first outing as people were quick to notice about she had worn tights with her outfit, which is one of the many fashion rules women are expected to follow.
Photo Credits: Facebook