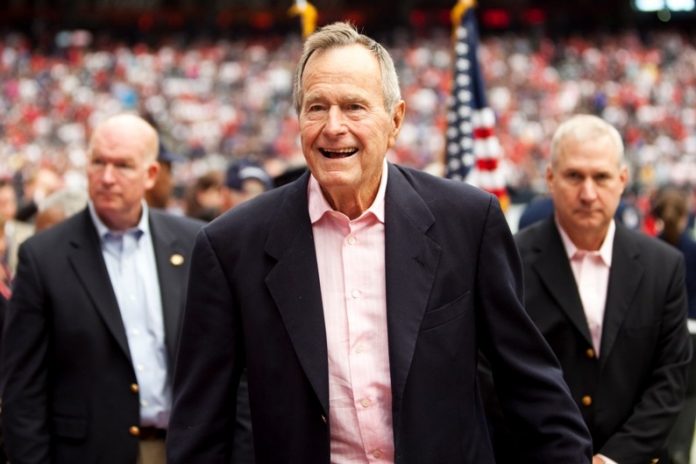 American businessman and politician George Bush, who served as the 43rd President of the United States from 2001 to 2009, passed away at the age of 94 at his home in Houston on November 30, 2018. The death of the former American president was announced by his office. Bush's death came just eight months after his wife Barbara Bush passed away at the age of 73 years.
The coffin bearing the remains of George Bush is lying at the United States Capitol since December 3, 2018. The remains of Mr. Bush will depart the Capitol on December 5, 2018 for a short drive to the Washington National Cathedral. The funeral will be attended by President Donald Trump, but will not have a speaking role which will be a break from the recent tradition and also in accordance with Mr. Bush's wishes.
At the funeral , the main eulogy will be delivered by his eldest son, while other attributes will be made by his friends, former senator Alan Simpson of Wyoming, former Prime Minister Brian Mulroney of Canada and by his biographer, the historian Jon Meacham. Mr. Bush was suffering from a form of Parkinson's disease which had forced him to use a wheelchair or motorized scooter in recent years. The former president has been making frequent visits to the hospital in recent times and his health condition deteriorated.
In April, 2018, Mr. Bush attended the funeral of his wife Barbara Bush and in the same month, he was also treated for an infection that had spread to his blood. Mr. Trump silently paid his respects to Mr. Bush on December 3, 2018 at the Capitol. The behavior of Mr. Trump was a contrast after the death of Senator John McCain of Arizona, who allowed it to be known that he did not want the sitting president to attend his funeral observances. There will be 21 gun salutes , more than a dozen of ruffles and flourishes and many special honor guards.
Photo Credits: Zenit