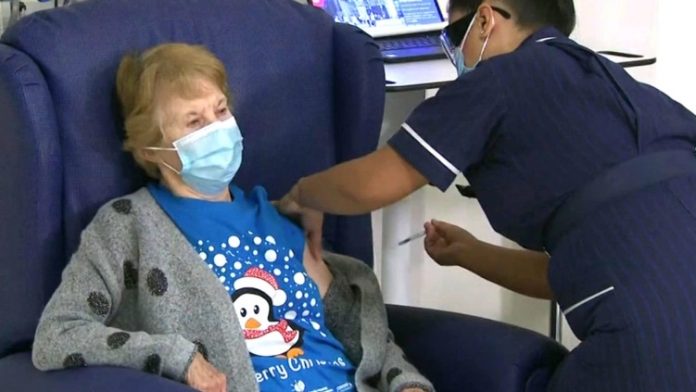 The moment that everyone across the globe was waiting for has finally arrived. Pharma giant Pfizer has started vaccinating the population of the United Kingdom on December 8, 2020. 90 year old Margaret Keenan became the world's first person to receive a Pfizer vaccine outside the trials. Keenan received her shot at the local hospital in Coventry at Central England at 0631 GMT. The first COVID-19 recipient is just a week away from turning 91 year old.
The vaccine here is developed by Pfizer and BioTech and England has become the Western country to begin the vaccination process. The development is a landmark in the pandemic that started off in China in December 2019, when the world had hoped that one day there would be a vaccine that would be able to deal with the coronavirus pandemic. Keenan got her shot from a nurse from the Philippines amidst a photographer and a TV crew. The 90 year old lady expressed that she feels privileged to be the first person to get vaccinated against the virus.
Keenan also expressed that it was like an early birthday present and that it would allow her to spend time with her family and friends during the New Year after she was staying alone about almost a year. The United Kingdom is one of the worst hit European country from COVID-19 and has recorded more than 61,000 deaths. Prime Minister Boris Johnson has high hopes with the rollout of the vaccine even before the United States and the European Union.
COVID-19 started off in December 2019 and since then it has managed to crush a number of economies across the globe. Hereafter, the actual challenge for the vaccines would be reaching out to people with the vaccine. The country has ordered 40 million doses of the Pfizer and every person will require two doses. After the first dose is given the next dose will have to be given after a about a month.
Photo Credits: ABC7