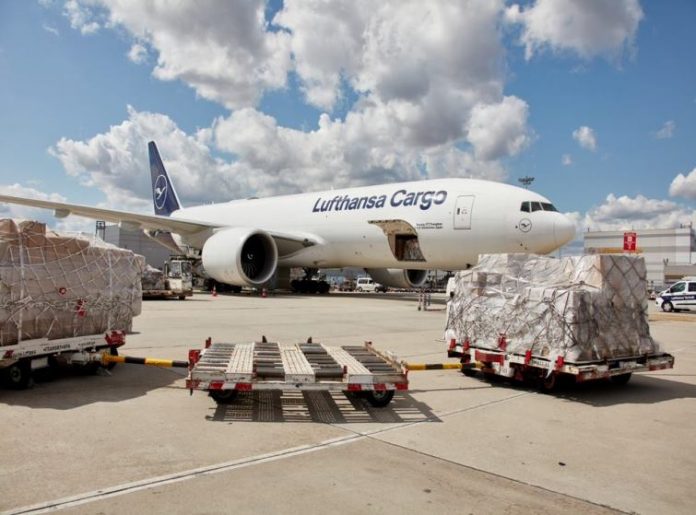 A new mutated version of the coronavirus that has been found in the United Kingdom has become a cause of concern for the country as well as the other nations in the world. Germany based Lufthansa Airlines has airlifted fresh vegetables and fruits to the UK on December 23, 2020 as the companies deal with the truck crisis at the sea ports. Lufthansa said that it is carrying nearly 80 tonnes of food from Frankfurt to Doncaster Sheffield Airport for some of the grocery giants like Sainsbury and Tesco.
Kent has nearly 3,000 lorries that are stuck despite efforts to restart the cross channel access from Dover. There have been concerns that testing the drivers of the lorries would delay the delivery of the food supplies. Meanwhile, France has shut its borders with the United Kingdom on Sunday for 48 hours due to the rising concern regarding the new version of the novel coronavirus that has been found in the UK.
A spokeswoman while talking to a leading daily said that Lufthansa Cargo is currently trying to operate additional cargo flights in the next few days. The airline is also trying to operate a regular flight. Doncaster Sheffield Airport informed that they are planning to increase the number of flights of perishable goods in the month of January from three to eight. The airport is expected to handle 700 tonnes of food freight in a week that is up from 300 tonnes a week.
The French residents who will have a proof that they have a negative coronavirus test can travel from Wednesday and even the lorry drivers will be able to travel after going through a rapid COVID test. The food will continue to be flown from Frankfurt which is the major food distribution centre in Europe. It receives goods from food producers from other places like Netherland, Spain and France.
Photo Credits: The Independent