UK TODAY NEWS: American Idol Season 9 semi-finals featuring the top 8 girls kicked off with Idol judge Ellen DeGeneres sitting in Simon Cowell's lap and probably whispering something good in his ear!
After that it was show time for the girls on American Idol Season 9. Here are some of the memorable points of each Idol contestants performance on Tuesday night that saw 8 girls battling it to enter the top 6.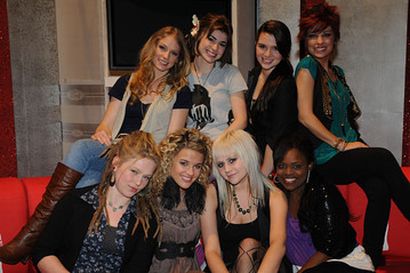 The first American Idol contestant to take the stage was Katie Stevens, who visibly rushed into singing Kelly Clarkson's "Breakaway." After her performance, judge Kara DioGuardi said that she thought she has a great radio voice, but she doesn't know who she is as an artist as of now.
Paige Miles was seen actually fumbling through Charlie "Smile" and wrecked it up quite a bit. Paige was really having a bad time and to add to it judge said it "didn't work at all." Ellen even called it "sad and heavy."
Siobhan Magnus performed a very enthusiastic version of The Animals' "House of the Rising Sun" and was undoubtedly one of the best singers of the night. Everyone loved it except forSimon, who said he was "Underimpressed".
Crystal Bowersox was the shining star for the night and was class personified. She sang what could have been an incredibly predictable song for her in Tracy Chapman's "Give Me One Reason," but she changed it up with the electric guitar and her phrasing and poise and, as the judges say, made it her own.
Lacey Brown perfomed Brandi Carlisle's "The Story" and Randy thought it was a "a little sleepy" – but we think it was good.
Katelyn Epperly's performance didn't go down to well with the judges and Simon Cowell though that her version of Carole King's "I Feel the Earth Move" felt like "request night" at some restaurant on a Friday night.
Didi Benami did Stevie Nicks' "Rhiannon" and she was yet another favorite among the girls with Ellen praising Didi's for making it back on stage with an improved performance after last week's frightening criticism.
Lilly Scott ended the American Idol show with "I Fall to Pieces." Being the last contestant, the judges didn't spend too much time giving her feedback, but she was good.