The much awaited Miss World 2009 pageant – which takes place in December later this year – has already begun with 120 beauties from across the world meeting each other for the first time in a charity event in London. This was followed by a trip to Abu Dhabi.
The 499-room Yas Marina Circuit hotel – situated on the Yas Marina – played  host to a series of fashion shows when all 120 Miss World finalists as well as the current Miss World were on stage.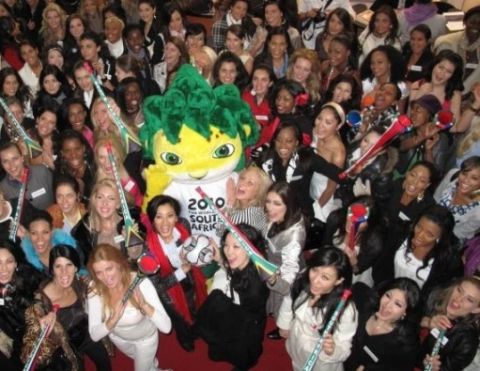 Miss World Ksenia from Russia made a special guest appearance on the second day of World Travel Market in London and along with the Miss World finalists, she was present at the presentation ceremony where trophies were handed out to individual winners .
All 120 Miss World finalists will be presenting trophies to individual winners on the night.
The Miss World 2009 contestants have now moved to Johannesburg, where there will be a number of smaller contest among the beauties in the run up to the finale in December. Each beauty has her entourage of designers and stylists to help them in winning the crown that can change their lives forever.
Already, one contestant – Rachel Christie of England – surrendered her crown the day before the London event, but that gave a lifetime opportunity to her replacement – Katrina Hodge – to be a part of the event.
So who will win the Miss World 2009 crown? Will it be Miss Russia? or Miss Venezuela? or Miss England?  Miss Mexico? Miss China? Miss India? Miss USA? Miss Belgium?
We will need to watch and wait if it is one of your favorites who gets the title!