UK Today News: China Earthquake – 6.9 Magnitude Qinghai Earthquake Kills 300, Hundreds Missing
A massive magnitude 6.9 earthquake in China has killed at least 300 people and trapped dozens of other people in the Qinghai province.
The epicenter of the earthquake was 240 miles southeast of Golmud, in a town of about 130,000 on the Tibetan plateau. Golmud happens to be the site of the world's largest salt lake.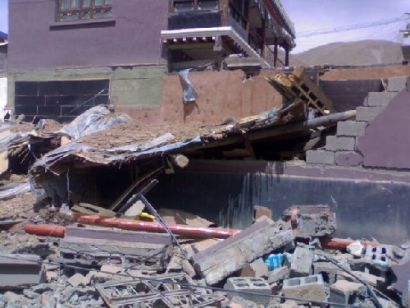 Reports say that the hit struck the Yushu prefecture at 7.49 a.m. at a depth of about 33 km.
A police officer Shi Huajie told the Xinhua News Agency: "We have to mainly rely on our hands to clear away the debris as we have no large excavating machines.We have no medical equipment, either."
A Chinese military official told Xinhua that the death toll was expected to rise, given the damage to homes.
Since Yushu is hundreds of miles from an airport, it will take a while for rescue teams to reach the places affected by the devastation.
The China earthquake took place at a time when people were just beginning their day and in school. Many buildings have collapsed and the place in Qinghai province is badly destroyed.
Back in 2008, 70,000 people died when a 7.9 earthquake rocked the Sichuan province.