UK Today News: New 100 Dollar Bill Unveiled By US Treasury Department Today April 21 2010
The US Treasury Department released a new $100 bill today,Wednesday, owing to the additional high tech anti-security features, such as watermarks as well as embedded security threads.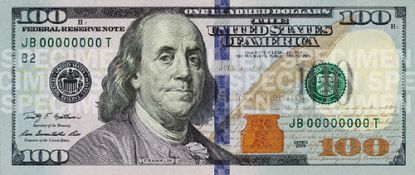 US Treasury Secretary Timothy Geithner and US Federal Reserve Chairman Ben Bernanke revealed the new design for the $100 bills today and it features the face of Benjamin Franklin's.
The new UD dollar bill design also includes a 3-D security ribbon that actually contain images of bells and 100s that keep moving and changing as the note is tilted, a new image of the Liberty Bell in the inkwell changes color from copper to green when the bill is tilted.
According to the Washington Post: "It also features phrases from the Declaration of Independence and the quill used by the Founding Fathers to sign the document on the right hand side of the front of the bill. On the back, there's a new image of the back of Independence Hall. Both that image and Franklin's portrait have been enlarged, and designers dropped the oval around both images."