UK Today News: Mississippi Tornado – Yazoo City Mississippi Tornado Kills 10

A large tornado hit Yazoo City in west-central Mississippi Saturday, destroying several buildings that were in the twister's path and killing atleast 10 people. The NSW reports that it hit the Mississippi cities of Valley Park, Yazoo City and Durant.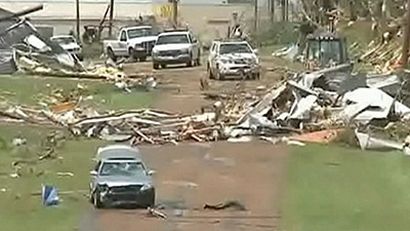 The mile wide tornado caused lots of damage as it moved from the central western border with Louisiana northeastward to Alabama.
Reports say that the death toll is likely to rise, given he fact that some areas are badly damaged and rescue crews still working right now. Many of the injured have been taken to nearby hospitals.
The Mississippi tornado killed two children including a 3 month old baby. Greg Flynn of Mississippi Emergency Management "Five of the dead were from Choctaw County, in the north central part of of the state, three were from Yazoo County, north of Jackson, and one was from Holmes County."
According to CNN: "President Obama has 'been briefed on the tragedy in Mississippi and the situation is being followed by the White House,' Obama spokesman Bill Burton said.
Check back here for more Mississippi Tornado updates.