UK Today News: Britain's New PM – Conservative Party Leader David Cameron Becomes The Prime Minister Of UK
UK Elections Results 2010, Prime Minister of UK: David Cameron is Britain's new prime minister, and he has already begun forming his coalition government by appointing several Liberal Democrat and Conservative party leaders to Cabinet posts.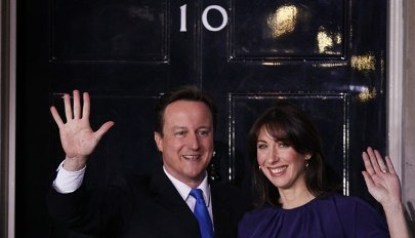 According to reports, Liberal Democrat leader Nick Clegg, who is now the deputy prime minister, has announced that his party has agreed to entering into a partnership to form the UK goverment.
Nick Clegg said, "I hope this is the start of the new politics I have always believed in: diverse, plural; where politicians of different persuasions come together to overcome their differences in order to deliver good government for the sake of the whole country."
"I am acutely aware that I carry your hopes and aspirations with me into this coalition agreement. I can imagine this evening you will have many questions and maybe many doubts about this new governing arrangement.
"But I want to assure you that I wouldn't have entered into this agreement unless I was genuinely convinced that it offers a unique opportunity to deliver the kind of changes that you and I believe in."
Britain's Queen Elizabeth II named David Cameron the prime minister of UK on Tuesday night, after Gordon Brown resigned. Cameron has moved into the prime minister's official Downing Street residence and is currently working on putting together his government.