UK Today News: Who Won American Idol 2010 – Lee DeWyze Wins American Idol Season 9, Crystal Bowersox Is Runner Up
Who Won American Idol Tonight, Lee DeWyze Wins, Crystal Bowersox, Janet Jackson American Idol, Paula Abdul: The American Idol Season 9 finale was a very good end to this year's American Idol 2010 show, as it is had some amazing performances and also a new American Idol winner being crowned at the end of the night.
There two finalists were Lee Dewyze and Crystal Bowersox and after nation wide voting, the person to become the next American Idol is Lee DeWyze.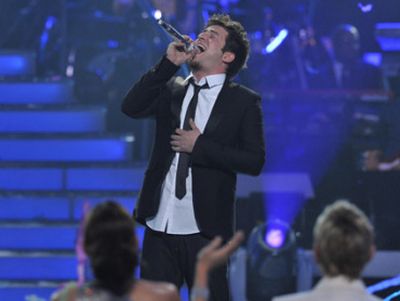 The previous nights performances saw Crystal Bowersox getting more attention than Lee DeWyze's, and when Lee DeWyze was announced as the winner, the visibly shocked American Idol 2010 winner said: "Thank you guys so much, everybody. I can't believe this. I love you guys."
The American Idol 2010 finale opened with the top 12 of this season performing "School's Out" along with an appearance by Alice Cooper.
Crystal Bowersox performed a duet with Alanis Morissette, and Casey James (second runner up) sang a duet with "Poison" singer and "Celebrity Apprentice" winner Bret Michaels.
The other stars who performed included Christina Aguilera and appearances by Hall & Oates, the Bee Gees, Michael McDonald and Joe Cocker.
The performance that stole the night, was undoubtedly that of Michael Jackson's sister – Janet Jackson. She looked great and sang "Nothing" before moving on to a rendition of "Nasty Boys."
The American Idol Season 9 finale also saw the winners from seasons 1 to 8 present, to give American Idol judge Simon Cowell a warm farewell. American Idol winners Kelly Clarkson, Reuben Studdard, Fantasia, Carrie Underwood, Taylor Hicks, Jordin Sparks, David Cook, Kris Allen and even former Idol judge Paula Abdul was there to make Simon Cowell's send off on American Idol a memorable one.
Lee DeWyze went on to sing U2's "Beautiful Day" as fans in his hometown and around the world celebrated his win. However, this is not the end of the road for Crystal Bowersox, since she is a talented musician and will surely go a long way.
Congratulations Lee DeWyze!