UK Today News: McDonalds Recall – 12 Million Shrek Glasses Recalled After Cadmium Fears
McDonalds Recall: Federal regulators found that 12 million "Shrek" drinking glasses, sold for $2 by McDonald Restaurant as a promotional tie-in movie "Shrek Forever After", contains toxic metal cadmium, a health risk factor to children. This will be official announced by the Consumer (Product Safety Commission) soon and the product has been recalled.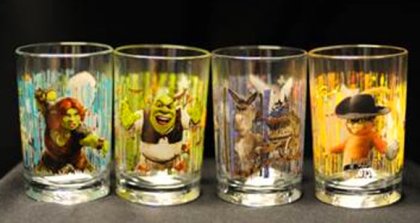 Cadmium is a toxic substance/ carcinogen that is extremely dangerous to the development of the health of children which can cause harm to kidneys, lungs, intestines and bones.." Cadmium is in the paint used for the decorative characters "Shrek" on the glasses which was tested by the commission. Purchasers are advised to keep these glasses away from children and refund the money for it.
The McDonald's episode pointed to the need for stronger safety measures, and hence a legislation has been introduced banning cadmium and other toxic metals from children's jewelry. The fast-food giant Mcdonald has been told to act quickly on this and to do a better job to review before launching any products in the market.
It is not yet known where these glasses where manufactured that contains this toxic substance Cadmium.