UK Today News: Russian Spy Ring – Presidents Obama and Medvedev Down Play Russian Spy Scandal, Work Towards Combating Terrorism
Russian Spy Ring: A few days ago, prior to Russian President Dmitry Medvedev's visit to Silicon Valley in America, FBI sleuths reportedly rounded up a Russian spy ring in America. Before this incident took place, both the superpower leaders were seen spending some good time together, having lunch at an Arlington eatery in Virginia. It was shocking news that one of the spies was caught just blocks away from where the leaders were dining together.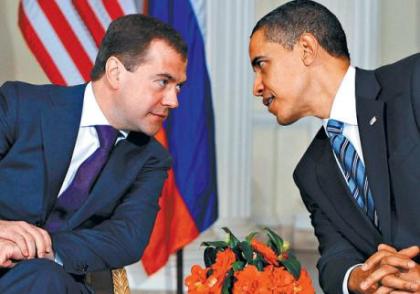 Russian President Medvedev and US President Obama
Reports by officials state that most of the spy incident makes them remember the times from the cold war. The alleged suspects had identities forged into US citizens. The FBI had started to track these spies almost a decade ago.
The most interesting thing about these spies is that America is gaining information which could be dangerous to national security. The good news to the political world all over, is that both the leaders present in the country have considered this as law enforcement issue rather than a political scandal.