Portugal's central and northern regions are in a terrible situation after reports came in that as many as 50 forest fires were found burning and has killed 2 people already. Around 100 people have been evacuated from Peneda-Geres National Park.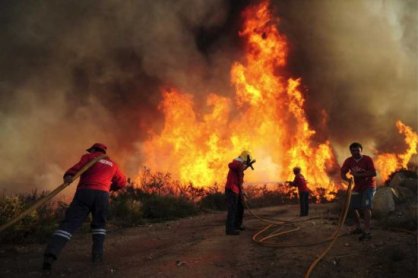 Photo Credit: EPA/NUNO ANDRE FERREIRA

BBC reports that the fires have affected 44,500 acres or 18,000 hectares of land that includes forests and bush lands as of now. If the fires are not quenched soon, the temperature might rise up to 104 degrees Fahrenheit, says the weather department.
1,500 firefighters have been deployed to handle the fires, according to the Portuguese Civil Defence Agency. It added that 1,000 new fires were discovered in the last weekend.
The strong winds in the region are making it quite difficult to douse off the fire. Not much loss to the mankind has been noticed as of now, but the Portuguese Police officials informed about the death of the female firefighter in Gondomar region.