UK Today News: Miley Cyrus And Liam Hemsworth Break Up After A Year Of Dating
Hannah Montanna star Miley Cyrus, who rose to fame as a teenager, is being making news about her break-up with Liam Hemsworth. The reason is rumored to be Miley's career mindedness, which is giving their relationship very little time to flourish.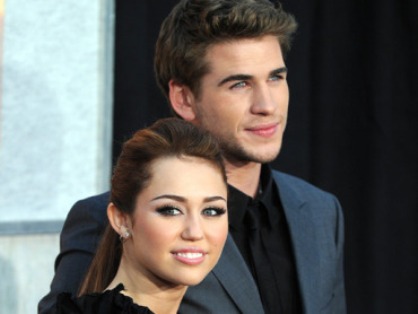 Miley and Liam (Photo Credit: Gabriel Bouys /AFP/Getty Images)
MTv says that the 17 year old Miley is more focused on her career than anything else, as of now. The star is currently shooting for her new movie 'LOL' in Detroit. A source close to Cyrus said, "Ever since she left for Detroit, Miley has been super focused on her work. Liam wanted more, but she's 17 and has other priorities right now. He's been a distraction. Miley's not with anybody else."
Whether it's just a rumour or a fact, will take some more time to know. If it's just a rumour then the couple has already faced this before as well. The source also said that maybe they are not completely done with each other, they might be giving space to each other, but as of now, they are not seeing each other.
The couple met in 2009 while filming "The Last Song".