UK Today News: Adriana Lima Shows Of $2 Million Victoria's Secret Diamond Bra

The stunning Victoria's Secret fantasy bra has been unveiled by model Adriana Lima on Wednesday, at the lingerie giants chain store SoHo, in New York. It is a $2 million wonder garment that was showcased for the very first time by Victoria's Secret angel Adriana Lima, as part of a preview for a holiday fashion show.
The designer bra is the creation of Damiani, and is made up of 1542 carats of white diamonds, blue sapphires and blue topaz. These gems have been set in 18 carat white gold.
The jeweled bra is the centre of attraction at this annual fashion show. This fashion show will be aired on CBS on November 30. Celebrity performances by Akon and Katy Perry are expected.
Adriana has been one of the leading models for Victoria's Secret. At the store, Lima dazzled around with a long blue cinched waist gown that was lined in pink satin, along with long white gloves and pink peep toe heels. Absolutely stylish lingerie!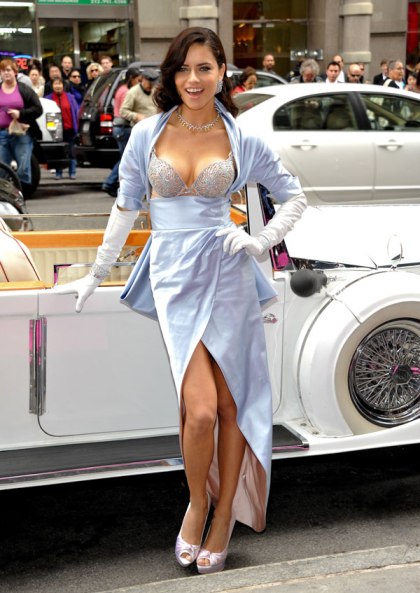 Adriana Lima in the $2 Million Victoria's Secret diamond bra (Photo Credit: AP)