UK Today News: Indonesia Tsunami Death Toll Rises – Rescue Operations Underway In Quake, Volcano-Affected Regions

The island country of Indonesia has been ravaged by a strong earthquake off the coast of Sumatra, which triggered a tsunami in the region; in addition to a volcanic eruption by Mount Merapi on the island of Java, which had spewed hot ash and killed many. After the 7.7 magnitude earthquake in the region, a tsunami was triggered in the ocean and it completely washed the west coast of Indonesia, sweeping away villages and killing around 300 people, besides leaving several missing, according to the authorities.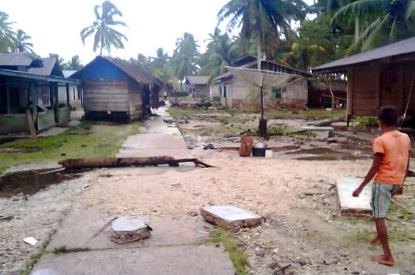 Photo: AP
Reports state that the number of casualties of the devastating quake is still rising, as rescue workers are trying their level best to provide aid and support to the affected people in country. On the other hand, 800 miles towards the east, Mount Merapi, erupted killing almost two dozen people around the volcanic zone, as hot ash and smoke spew from the mouth of the mountain.
Emergency workers packed in helicopters, are trying provide health supplies and food to the people who have been affected by the tsunami. There are rescue workers too, who are employed to search out the people who are reported to be missing during the tsunami. This is one of the major tragedies that has struck Indonesia since years, and the worst part of this whole tragedy is that three of the nature's worst furies were experienced in the country at one time.