English actor and comedian Russell Brand seems like he cannot get enough of new girls on his side. The actor was spotted walking hand in hand with a mystery girl on a romantic stroll in California.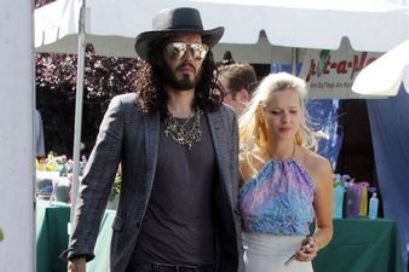 Brand was spotted with a new girl just days after former wife Katy Perry was seen getting intimate with her new man Robert Ackroyd , who is a guitarist in Florence And the Machine. After the split of Perry and Brand, the comedian has been seen with several women and it seems like the actor is now back to his old womanising tricks.
Brand and the mystery woman were seen walking hand in hand as they made their way to a charity fundraiser at the Miauhaus Studios. Despite the heat, the actor was seen dressed in black from head to toe.
Brand was seen in his regular skinny jeans, black t-shirt, grey blazer and a black hat. The actor was also wearing mirrored sunglasses and a necklace made up entirely of silver crosses. Even as the two made their way to the Nancy's Garden Party event, they continued to hold hands and tried to avoid the gaze of the cameras.