The Duchess of Cambridge, Kate Middleton has been constantly in news after her wedding with Prince William. The Royal couple turned heads at the Thirty Club's exclusive dinner event at the Claridge's Hotel in Mayfair , London, held earlier this week. After celebrating their first wedding anniversary, Kate as usual looked stunning in a floor length gown of cream colour. The gown is reportedly designed by the French fashion designer Roland Mouret.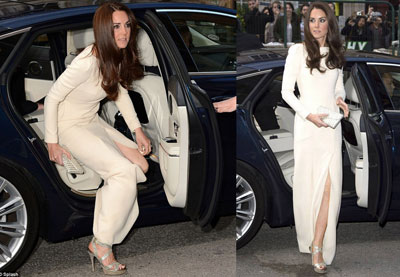 The surprising thing was that the dress featured a dramatic slit in the front which showed off the legs of the Duchess of Cambridge. However, Kate stopped and did not do any Angelina Jolie kind of flashing of legs and posing, as she is known to be a sophisticated socialite. According to the fashion experts the dress which was worn by Kate was specifically designed for the Duchess , as it hasn't been seen on any of the ramp walk shows of Mouret.
Kate was extremely careful while stepping out of the car along with her husband William. The Duchess made sure to manage her dress and was careful enough from the paparazzi and waved to her fans, before she entered in the high profile dinner event. The Thirty Club comprised of elite members of the advertising and media industry and was established over 100 years back. The couple has now celebrated their first anniversary and now there is much speculation if the couple will plan to have children.
Some of the insiders said that Kate is now more worried about her errant sister Pippa Middleton. Sister Pippa was recently questioned by the police in Paris over an incident in which one of her friends brandished a gun to a photographer. But now Pippa has been cleared of the involvement in the incident.