Just a week after the British glamour model Chantelle Houghton looked exhausted while she lifted her shopping bags, the model appeared fresh and washed out despite being eight months pregnant. Last Wednesday, Houghton was pictured looking completely exhausted when she struggled taking her shopping bags in to her Essex home.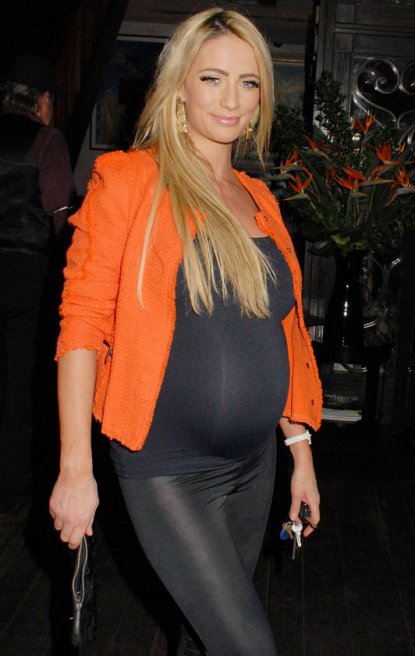 The glamour model looked like a completely different person as she attended a teeth whitening bash in London on May 16, 2012. The 28 year old Celebrity Big Brother winner glowed and flaunted her baby bump at the Teeth Whitening party at the Sanctum Soho Hotel.
Chantelle was seen dressed in tight black T-shirt, Lycra leggings, an orange jacket and a matching orange, black and beige heels she looked absolutely stylish. However, the model still had to fly alone as fiancé Alex Reid is at present touring the country with the stripper based play Wildboyz.
Chantelle came out as the winner of the season 4 o the Celebrity Big Brother and left behind ten celebrities including Maggot, Samuel Preston, Michael Barrymore, Pete Burns and George Galloway. Houghton then married fellow Celebrity Big Brother of Samuel Preston, but then announced their separation in 2007. She is currently dating Reid, with whom she is expecting r first child.