The Paralympics in London got a great start on August 30, 2012 with some British victories in Cycling and Swimming amidst the present of the Royals. Cyclist Sarah Storey is already heading for Gold after she smashed the individual pursuit world record and left the US opponent behind.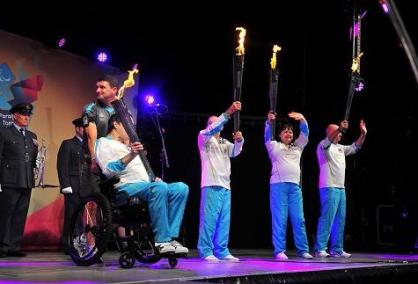 Even Jonathan Fox broke the world 100 metres backstroke record to put swimming team on the way to the medal win. 16 year old Hannah Russell won her 400m free style. Storey says, "This is everything. I've really been working on this in training. I'm so chuffed. It's so hard to explain the energy the crowd give you."
Mayor Boris Johnson proudly said that the Paralympics have got a roaring start. Johnson said, "I sense a huge feeling of excitement is mounting around London, and particularly in our wonderful sports venues, as records are smashed and these tremendous athletes display their incredible skills to the world."
The successful beginning of the first day of the 11 day Games was better than anyone had anticipated. IT opening ceremony also set another record for the opening ceremony's TV audience. The Channel 4 had its best ever viewing figures with a peak audience of 11.2 million viewers, who tuned in to the spectacular show.