UKTodayNews.com: Brazilian beauty Gabriela Markus was crowned Miss Brazil 2012 by Priscilla Machado, who was the 2011 title winner. The grand finale of the 58th edition of the Miss Brazil beauty contest was held at the Convention Center in Fortaleza, Ceara, on grand coronation night. The event was held on September 29, 2012 and Gabriela will now represent Brazil at the 61st edition of the Miss Universe 2012 contest and right enough, this stunner is among the top favorite contestants this year.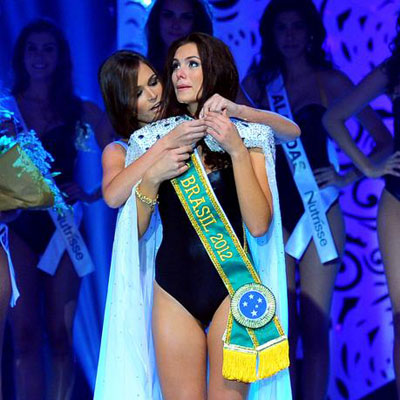 Gabriela said, "When people come here and see many beautiful girls, we think we will not get. But every step the hope was rising, and could win". After winning her title, the model said "I'm very happy. Torci Long for the Miss General was among the finalists because we became great friends, then happiness is still higher. "
Gabriela was born in Rio Grande do Sul and has graduated in Food Engineering. For the Miss Rio Grande do Sul 2010 contest, the model claimed the first runner up position. With the Miss Brazil title, the model has won the twelfth title for Rio Grande do Sul and this has made the state the biggest winner in the history of the pageant.
Gabriela will be a part of the Miss Universe 2012 pageant which will be held in Las Vegas on December 19, 2012.