Australian Prime Minister Julia Gillard said that the border protection policies of her government are working. The PM insisted that their co-operation with Indonesia has successfully prevented the smuggling ventures of many people.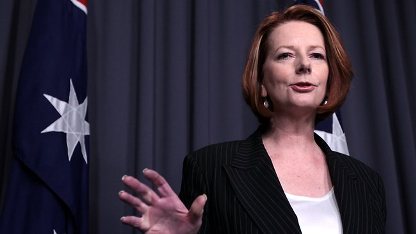 Gillard continued to say that the government will remain focused on targeting high value people smugglers, in order to stem the flow of boats. While in Bali on November 9, 2012, Gillard said, 'It is about continuing to focus on disruption activities, stopping people smugglers (and) particularly focusing on the high-value targets – the people who are the masterminds behind these ventures'.  However, in recent times there have not been any high profile people smugglers captured in Indonesia. At the same time, more than 800 people have arrived in Australia on 16 boats within the first nine days of November.
Discussions were being held between the Australian PM and Indonesian President Susilo Bambang Yudhoyono during a meeting in the resort area of Nusa Dua in Bali. One of the purposes of the meeting was to discuss the topic of people smuggling.
Most of these boats had originated from Indonesia, which is the main point for asylum seekers heading towards Australia. Gillard said that her government was intensively engaged with Indonesia on a daily basis in order to combat people smuggling.