Manchester United will meet Liverpool at Old Trafford on Sunday January 13, 2013, in what promises to be yet another sizzling encounter between the two rivals. Manchester United midfielder Paul Scholes still maintains a healthy respect for Liverpool, even though the later have not had a good run in the last few years.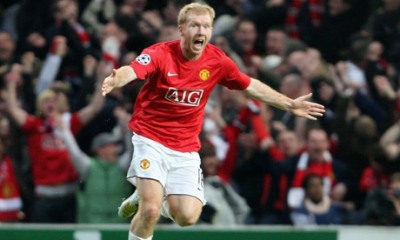 The history between the two English club sides is the stuff of legend, but this Sunday's fixture could buck the trend and become a damp squib, considering the fact that Liverpool are languishing in the 8th spot in the English Premier League and Manchester United are on top of the table with 21 points.
Scholes went on to say that he was unsure whether Manchester City could challenge Liverpool for the title of his club's biggest rival, as Liverpool have historically always brought the fight to his side. The veteran went on to say that the atmosphere at games where the old rivals have faced off cannot be rivaled.
The 38-year-old player said that he was happy that he had decided to come back out of retirement over a year ago. Scholes also expressed disappointment that his side could not win the league in 2012 and was happy to help during the season, as his side had a lot of injured players.