UK-based multinational defense, security and aerospace company BAE Systems will soon cut over 1,000 jobs across three shipyards in the country. The decision to cut jobs sparked outrage among politicians and union officials on November 5, 2013.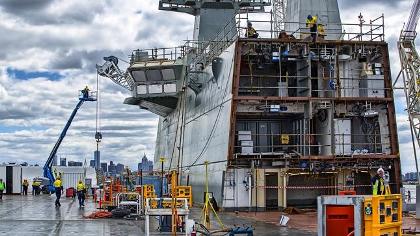 Reports say that the jobs are facing a threat at Govan and Scotstoun in Glasgow, as well as in Portsmouth. The job losses are scheduled to be announced formally on November 7, 2013 and the upcoming announcement will come at a period of extreme political sensitivity, especially in Scotland, which is less than 12 months away from a referendum of independence.
More reports are claiming that the cuts are related to the completion of the two latest aircraft carriers from Royal Navy in 2015 and the huge costs of the massive project will result in the final bill of over £6 billion. Last weekend, there were speculations that Govan might be up for closure, in addition to five cranes at the yard to be decommissioned, however, BAE explained that the crane move was not related to the review.
Johann Lamont, the Scottish Labour leader said, "Shipbuilding is part of Scotland and everything must be done to ensure shipbuilding on the Clyde continues.'' Lamont went on to say that this will be a worrying time for the workforce and their families, but he will work with anyone in order to make sure that these jobs are kept in the future.
Photo Credits: AFR