The 91 heads of state, 75 dignitaries, 10 former heads of state and 86 delegations from different organizations are expected to gather for the former South African President Nelson Mandela's memorial. The memorial service for the late veteran will be held at the 95,000-seat football stadium in Soweto on December 10, 2013.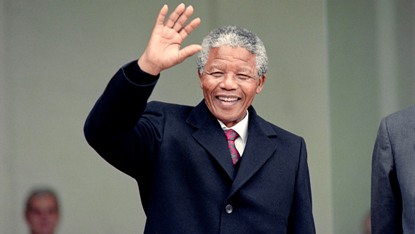 The football stadium is the place where the former president made his last appearance at the 2010 World Cup. The list of high-profile guests who are expected to attend the event include Prime Minister of the United Kingdom David Cameron, President of the US Barack Obama, French President Francois Hollande, Australian Prime Minister Tony Abbott, Indian President Pranab Mukherjee and many more.
Celebrities who are expected to attend the memorial include the co-founder of Microsoft Bill Gates, Peter Gabriel, entrepreneur Richard Branson, U2 frontman Bono, the chat-show queen Oprah Winfrey, at least two members of the Spice Girls, supermodel Naomi Campbell and more others.
Meanwhile, people who will not be attending the event include the Israeli Prime Minister Benjamin Netanyahu, the Dalai Lama and the long-time friend of Mandela, Fidel Castro. On the other hand, Pope Francis and Russia, Libya and Syria are yet to confirm their attendance.
Photo Credits: Hollywood Reporter