It is reported that around 45 people have died due to storms in parts of Spain, France and Portugal.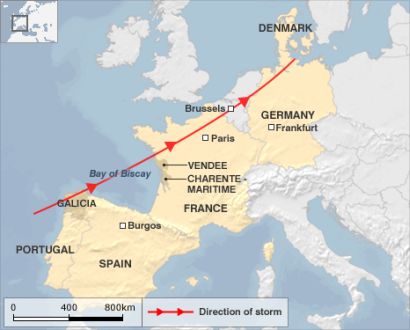 Out of the 45 victims reported dead, 40 are reported from western France, where most of the casualties were because of falling buildings, or drowning.
The winds were blowing at around 87 miles per hour that caused a lot of chaos, and the winds moved from parts of Portugal towards the Bay of Biscay.
There were power cuts in most of the regions as the winds were really severe, coastal towns faced huge waves.
At least around a dozen people were reported missing and 59 reported injured.
The French President Nicolas Sarkozy has expressed his condolences to all affected and that he would visit affected areas soon.
Many Flights have been cancelled in these areas.