UK Today News: Phil Mickelson's Wife Amy Mickelson Is Battling Breast Cancer – Amy Mickelson Breast Cancer Update
Amy Mickelson, who has breast cancer, watched her husband for the first time this season and was overjoyed to see that Phil Mickelson won the Masters 2010.
Amy Mickelson, the wife of the Masters 2010 golfing champion Phil Mickelson, was diagnosed with breast cancer and had to go through breast cancer treatment over the past year .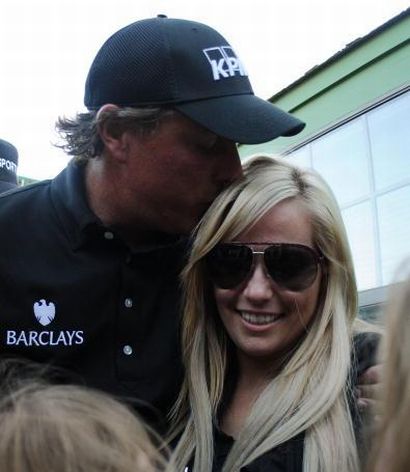 One year on, Amy Mickelson is doing much better now, and is so happy to be by her husband's side as he celebrates his Masters 2010 win – a win that he paid to tribute to his wife Amy.
Although the media focused more on infamous golfer Tiger Woods, Phil Mickelson proved to the world what he is made of when he claimed his third green jacket at the Masters 2010 event in Augusta, Georgia.
Mickelson won with a final scorecard of 16-under to beat Lee Westwood (-13), Anthony Kim (-12), Woods and K.J. Choi at 11-under, while Tiger Woods finished tied for fourth (-11),
Even though she was unable to walk the course with her husband, she was with Phil to congratulate him on his third Masters victory.
The Mickelson's were married in 1996 and have three children.
Way to go Phil Mickelson!