UK Today News: Ferrari says No Alonso-Massa Rift After The China Duel

Ferrari has quelled the media reports about the friction between their two drivers Fernando Alonso and Felipe Massa when the duo entered the pits, on Sundays Chinese Grand Prix.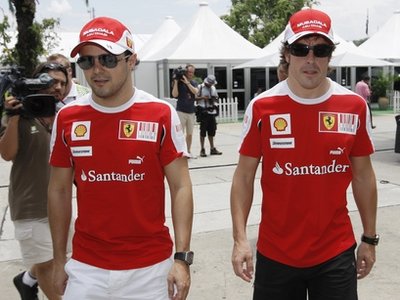 It reported that it costed Massa a place after his team mate executed this move. As Massa was suppose to put his car into service, Fernando pushed in his instead, as a result he had to wait for his team mates car to be serviced which awarded him the 9th positing in the race. But later both driver were cool over the incident.
But Ferrari has pointed out that some media reports are still making the incident a bigger issue and are trying to make the scene look like bad bloods in the team. But Ferrari scrapes this out. As both of them are scheduled to fly to Europe in the same plane with their team technicians.