UK Today News – London Marathon 2010 Results: Tsegaye Kebede, Liliya Shobukhova Win London Marathon
The 2010 London Marathon has crowned Tsegaye Kebede of Ethiopia and Liliya Shobukhova of Russia, as the winners in the male and female categories respectively, of this year's London Marathon in UK today.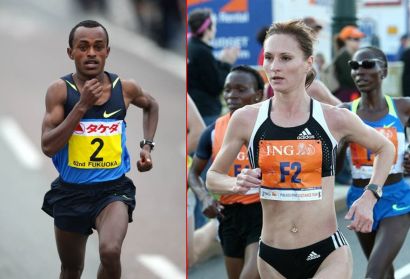 Liliya Shobukhova of Russia has won the women's London Marathon 2010. Inga Abitova of Russia came in the second place of the Virgin London Marathon 2010.
Shobukhova took the lead in the last two kilometers, making this the next marathon to win after the Chicago Marathon title that she won last year.
Britain's hope Mara Yamauchi failed to make it to the top five. Yamauchi, who finished second last year, finished the London Marathon in the 10th place. The Japan-based 36-year-old Yamauchi had reportedly gone through a six-day journey to the race.
Ethiopia's Asselefech Mergia came in at the third place of the women's London Marathon 2010.
On the Men's side,Tsegaye Kebede of Ethiopia won the London Marathon 2010.
The 23-year-old Kebede completed the 42.2-kilometer (26.2-mile) race in exactly 2 hours, 5 minutes, 18 seconds .Emmanuel Mutai of Kenya came in at the second place, while Jaouad Gharib of Morocco was third.