UK Today News: 2010 Flying Pig Marathon – Cincinnati Marathon Takes Place This Sunday
The Flying Pig Marathon 2010 takes place live on Sunday May 2, 2010 in Cincinnati and this also happens to be the 12th annual Flying Pig Marathon.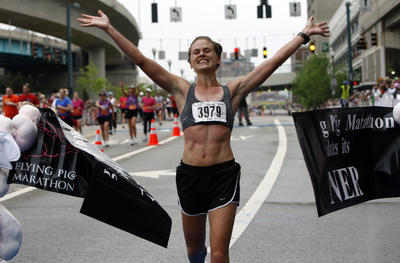 The Cincinnati marathon begins at 6:30 a.m. with at least 100 'streakers,' – runners who get he tag after finishing all 12 "Pigs" by the end of Sunday.
Sunday will also see the half marathon, the City Dash 4-person relay as well as the Paycor Corporate Relay.
Sources say that the registration for these events will be available at the P and G Health and Fitness Expo on Friday and Saturday. There will however be no on-site registration on Sunday.
Incase you need any more information, then you can call (513) 721-PIGS (7447).
Don't forget to check back here for the 2010 Flying Pigs Marathon results.