UK Today News: Blind Luck Wins The 2010 Kentucky Oaks Horse Race

2010 Kentucky Oaks: Blind Luck somehow from the back of the pack raced ahead and went on to win the 2010 Kentucky Oaks horse race on Friday April 30th 2010.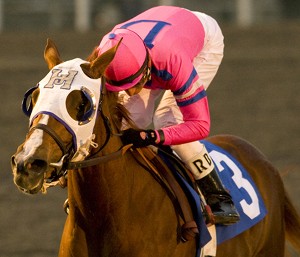 The owners of the three year old chestnut filly are Mark DeDomenico, John Carver, Peter Abruzzo and Jerry Hollendorfer.
The race was completed by Blind Luck in 1.50.70, winning before a record crowd totaling 116,046.
Blind Luck's co owner Jerry Hollendorfer said,
"That little nose made all the difference,"
In total this was John Carver's third Kentucky Oaks win and the Jockey Rafael Bejarano's very first.
This is John Carver's third Kentucky Oaks win and jockey Rafael Bejarano's first.