UK Today News: Gulf Oil Spill 2010 Update – BP Suffering £15 billion Loss Over Deepwater Horizon Oil Spill
Gulf Oil Spill 2010, Oil Rig Disaster: The Deepwater Horizon oil spill in the Gulf of Mexico is now led to BP suffering huge losses going into billions of dollars.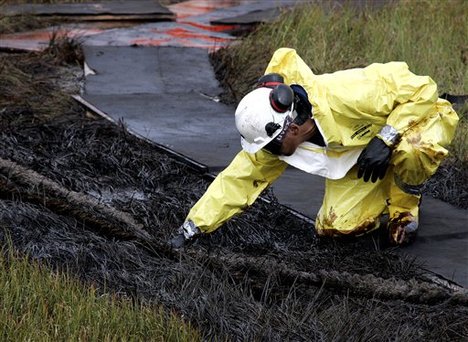 Experts say that British Petroleum has already lost £15 billion worth of fuel and the shares of the company are continuously falling against its competitors- by nearly 5%. Nearly $25 billion worth of it's share price was "wiped out" following the oil spill disaster.
BP's Chief Executive, Tony Hayward said that the company should bounce back from all its liabilities  incurred over the past few weeks. But he did not mention any firm solution on how to actually plug the oil spill in the Gulf of Mexico.
New and tougher drilling regulations which are likely to come up, will surely wipe out at least $6 billion of the BP's share in long term value, as the company's growth rate is going to be hampered severely.