UK Today News: Vanuatu Map: 7.2 Magnitude Quake Hits Vanatu – Tsunami Warning Called Off

Vanuatu Map: A 7.2 magnitude earthquake hit the Pacific island of Vanatu today. The US officials had warned the islands of Solomon, Vanatu and New Caledonia, that there may be a threat of a rising tsunami. But later the authorities cancelled the tsunami warning.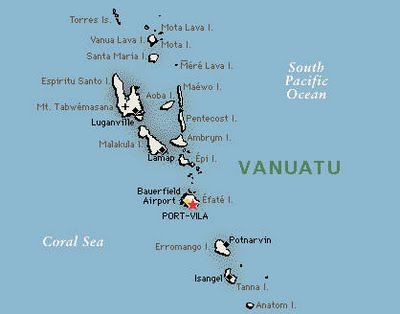 See Above Vanuatu Map
According to the Pacific Tsunami Warning Center, they could not monitor any static change in the sea level or any tsunami readings, and even if there was a tsunami rising, the threat was outside the scope of the region. The epicenter of the quake was detected at 300 miles from the island of Port Villa, at a depth of 22 miles. It struck the region at 01:45:26 local time.
Local authorities of Vanatu are checking in for any signs of a tsunami in the area, but for the moment there seems to be no threat. The Pacific Tsunami Warning Center has also confirmed that Hawaii too doesn't pose any danger from a tsunami.