UK Today News: Anamika Veeramani Wins Spelling Bee 2010

Anamika Veeramani : The official winner of Spelling Bee 2010 is Indian-American Anamika Veeramani. She won when he came up with the spelling to the word stromuhr — in the final round which was broadcasted live on ABC.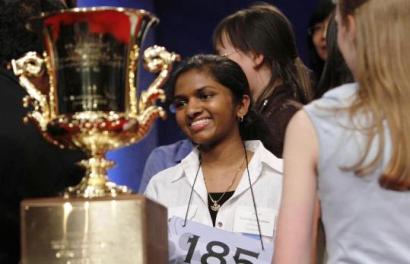 Spelling Bee 2010: The word that Anamika Veeramani came uo was a medical words that only around 1% of the population in the world uses on a day to day basis.
Anamika Veeramani is a 14 year old from North Royalton, Ohio, US. She is also the 3rd India-American to win Spelling Bee.
Anamika Veeramani after winning Spelling Bee 2010 takes away 30,000 dollars in cash along with the Trophy which is sponsored by E.W. Scripps Co.
Some of the other prizes she wins is a saving bond worth 2,500 dollars U.S, a complete reference library from Merriam-Webster. Anamika also win a 5,000-dollar scholarship from the Sigma Phi Epsilon Educational Foundation and a 3,499 dollars worth package from Encyclopedia Britannica.