UK Today News: Pakistan Sentences Five American to 10 Years of Imprisonment On Grounds Of Terrorism Charges
5 Americans Arrested: Five convicts who are reported to be from America and originally from surrounding Middle-Easter countries, were sentenced to 10 years of imprisonment in Pakistan on Thursday.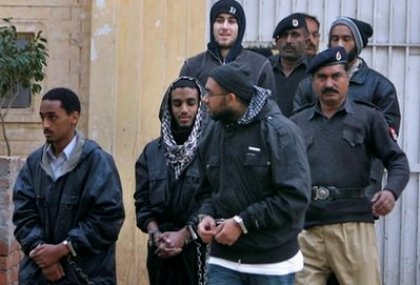 Reports say that the convicted men, who are aged between 19 to 25, were arrested on the basis of plotting terrorist attacks on Pakistani soil and were also held responsible for funding some banned Jihadist groups in Pakistan itself. Their arrest took place in the city of Sargodha in December.
As more light has been put on this particular case, these cases are reportedly a part of the few cases that Pakistan has called 'home grown' American Muslim anti socials in. The nationalities of the convicts are known to be different – two of them are Pakistani-Americans, the other three are of Eritrean, Ethiopian, and Egyptian origins.
BBC reports: "They disappeared from the US state of Virginia in November, after which their families found a farewell video message, which is said to have shown scenes of war and calls for Muslims to be defended. "
The most shocking part of their lives is, the Pakistani-Americans had fled from the state of Virginia in the month of November. Later their parents and relatives at home found a video that depicted a farewell message and war cry towards the support of many Muslims who need help.
However, some reports state that the convictions are not final as of now.