UK Today News: US Open Finals – Kim Clijsters Beats Zvonareva, Rafael Nadal Vs Novak Djokovic Men's Final Today

2010 US Open Final – Defending U.S. Open champion Kim Clijsters beat seventh seeded Russian Vera Zvonareva 6-2, 6-1 to win the 2010 US Opens Finals in New York.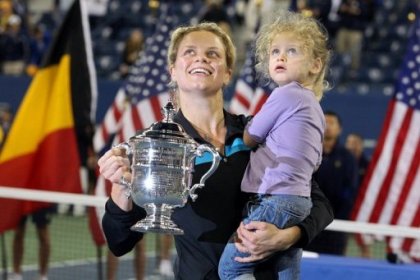 Photo Credit: AFP
The 27 year old mother, went on to win the match in 1 hour, and takes her down in U.S. Open women's history to be the next woman to win titles consecutively. The last time this feat was achieved was by Venus Williams, who won the titles in 2000 and 2001.
Russia's Zvonareva seemed to have made an impressive start at the U.S Open finals, but her errors led to Clijsters taking the advantage, and winning the title. Reports say that Clijsters had 78 percent first serve winners.
Kim goes on to win $2.2 million as prize money. She is currently married to American basketball player Brian Lynch and has a 2 year old daughter.
In the U.S Open Men's final Rafael Nadal will play Novak Djokovic today.