UK Today News: Sweden Elections 2010 – Swedes Vote In Parlaimentary Elections On Sunday

Sweden's elections 2010 will see Swedes turning out in numbers to vote in the parliamentary polls on Sunday, with sources stating that Reinfeldt's centre-right coalition is more likely to be the winner of the re-election and possibly create history if his party is re-elected.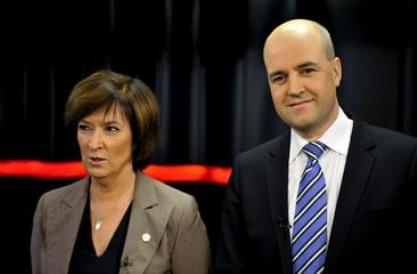 Fredrik Reinfeldt and Mona Sahlin

Swedish Prime Minister Fredrik Reinfeldt's coalition is the likely winner thanks to tax cuts and better finances, which indicate a recovery in the failing European markets. But, the coalition can face a stiff opponent in the Sweden Democrats under Jimmie Akesson, who emphasizes that immigration has resulted in locals losing jobs to newcomers and the party openly considers Islam to be an enemy of Sweden.
Reinfeldt told reporters: "We have appealed to the Swedish people to be farsighted and responsible and vote clearly for the possibility to continue with a majority government."
On the other hand, Social Democratic leader Mona Sahlin, is standing in the elections to become the first ever female prime minister of Sweden.