UK Today News: As the first anniversary of the Duke and Duchess of Cambridge approaches, Prince William and Kate Middleton have received a Barbie and Ken makeover. There cannot be a better gift for the royal couple on their first wedding anniversary.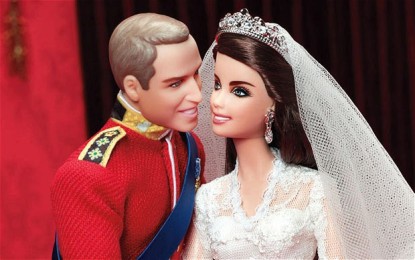 Mattel, the Barbie toy maker, said that a limited edition 'William and Catherine Royal Wedding Giftset' will go on sale in the month of April which will coincide with the first wedding anniversary of Kate and William.
The two dolls resemble the couple with the wedding attire that they wore on the day of their wedding on April 29, 2011, in a ceremony that was streamed live for the world to witness. Wth the introduction of the new set, Mattel said that one year after the announcement of Barbie and Ken announced their reconciliation, Barbie celebrates the love of another iconic couple.
The pair of dolls, which is a part of the Barbie Collector edition, will sell for $100.
It was reported that Prince William received a pair of underpants from wife Kate for his Valentine's Day gift. On Valentine's Day, Kate received flowers and a card.
Prince William is at present serving as an RAF search and rescue helicopter pilot at Falkland Islands.