Social networking giant Facebook has revealed the oldest official registered Facebook user. The site has revealed that the oldest user is a 101 year old Florence Detlor from California.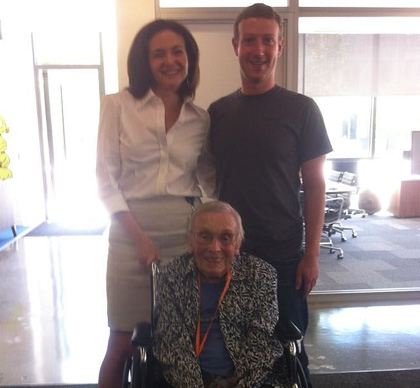 The social network has also revealed that Ms Detlor is the oldest user as well as the oldest person to visit Facebook's headquarters in Silicon Valley. Florence was greeted by the founder and CEO Mark Zuckerberg as well as Sheryl Sandberg, who is the chief operating officer of Facebook during her tour.
Sandberg also posted a picture of her with Detlor and Zuckerberg. The picture had the caption, "Honored to meet Florence Detlor, who at 101 years old is the oldest registered Facebook user. Thank you for visiting us Florence!" Detlor profile has mentioned that she has graduated from Occidental College in Los Angeles in the year 1932.
The FB user lives at Menlo Park California coincidentally where Facebook has its head quarters. Detlor joined Facebook in August 2009 and says that she is looking for a good book to read. She said that she is also planning to open a Twitter account after taking a course for pensioners on how to use the Internet. In the year 2009, Ivy Bean became the oldest tweeter after signing up at the site at the age of 104.