While the Duke and Duchess of Cambridge have gone to the court to stop the publication of the topless pictures of Kate Middleton, the royal couple was welcomed by topless women from the Solomen Islands before they travel by boat to Tavanipupu, which is a part of the couple's Diamond Jubilee tour of South East Asia.
Photo Credits: NY Daily News
But the Duchess did her best to maintain her composure as she negotiated the highly awkward moment. The Rotal coupel were welcomed to the village of Marau by a group of topless women draped in the Island's traditional outfit. The couple was presented with garlands to wear during the visit.
Photo Credits: NY Daily News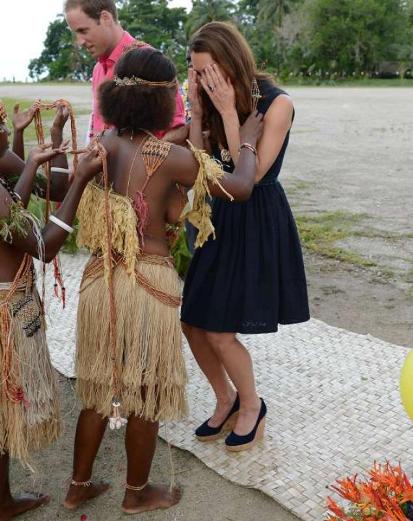 Photo Credits: NY Daily News
Photo Credits: NY Daily News