Barbadian singer Rihanna has started off her much awaited and hyped 777 tour. with the first show being held in Mexico City. The tour will see the singer reach various destinations to support the release of her seventh album 'Unapologetic'.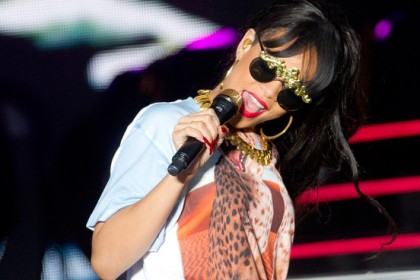 According to reports, members of the singer's fan club and about 150 journalists will be flown to various venues of the tour on a private Boeing 777 jet. On November 15, 2012 the flight will travel to Toronto before continuing to Stockholm, Berlin, London and Paris and finally to the concluding show on November 20, 2012 in New York.
The tour will be touching the UK on November 19, 2012 and those who are lucky enough to be attending the concert can hope for an electrifying show, especially since the concert takes place on the same day as the UK album launch. However, the venue for the concert is yet to be announced.
Reports say that the location of the concert will be announced on the day of the concert itself and tickets will be available at the venue on a first-come first-served basis. The 'Umbrella' singer arrived late on stage at Mexico and apologized for the same. She said the delay was due to her equipment arriving late, but expressed her delight at returning to the city.
Fans will be expecting to hear some of the singers past hits such as 'Disturbia', 'SOS', 'Only Girl (in the world), along with new songs of her latest album 'Unapologetic'.