British rockers The Rolling Stones took to the stage on November 25, 2012 in London to a packed show. The organizers of the show added a few special guests so as to keep the excitements levels of the fans high throughout the night.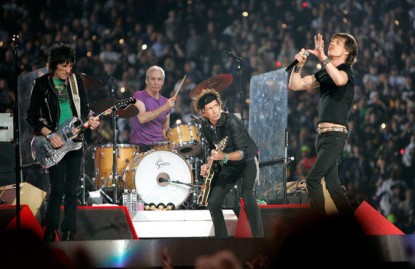 Moreover, former Rolling Stones members Mick Taylor and Bill Wyman also joined the band and performed in front of the 20,000 roaring fans. Wyman and Taylor joined the band alongside US soul star Mary J Blige and Jeff Beck at the gig being held at London's O2.
Apart from the fans, it was also a treat for the legendary band, who were greeted by video messages from stars like Iggy Pop, Hollywood star Johhny Depp, Elton John, Nick Cave, Cate Blanchett and the Black Keys. The band performed some of their biggest hits like 'Brown Sugar', 'Wild Horses', 'Its Only Rick And Roll' and 'Jumping Jack Flash'.
Reports said that the band reportedly did not have time to perform 'Satisfaction' as they ran out of time. The Rolling Stones also performed a cover of The Beatles 'I Wanna Be Your Man'. Along with this they also premiered a cover of 'Im Going Down' with Jeff Beck. Wyman was seen joining the band for 'Its Only Rock and Roll' as well.