Search engine giant Google has launched a new tool for mortgage borrowers, which will help in comparing every available deal in the market. The new tool will appear at the top of the search results when someone searches for mortgage related items.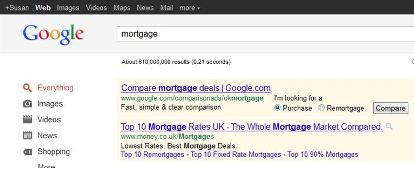 The tool will help people searching for loans which are available through mortgage brokers and also loans which are offered directly to the banks and other lenders. Overall, it can compare about 5,000 different mortgage deals.
Users can look for best-buy tables for a variety of mortgage types or get a more personalized list of offers if they provide more information about their needs and circumstances. The company said, "We will ask sufficient questions to allow the user to get meaningful search results". However, this is not the first time the search engine made such an attempt. Even earlier in 2012, a similar comparison service was launched which was soon suspended.
Google has said that it aims to offer the highest standards of user experience and data protection. Any personal data will not be recorded by the search engine if a user clicks through a direct lender ,or just enters basic information to allow a broker to call back. Google also wants the companies participating to follow a code of conduct to ensure that the customers are treated fairly.