According to reports published on May 27, 2013, Rafael Nadal, the 26-year-old Spaniard, would become the first man in tennis history to win one of four major tournaments eight times, if he goes on to win another French Open title this year. If he succeeds, he would surpass the likes of Bjorn Borg, who won it seven times. Nadal won a record seventh title in 2012, taking his score at Roland Garros to 52 wins and one defeat.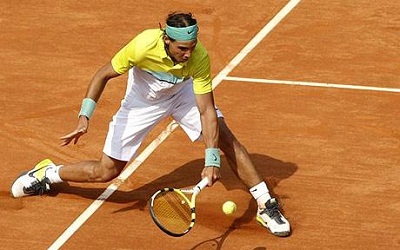 Many tennis legends claim that Nadal is the greatest clay-court player of all time. According to former number 1 Carlos Moya, it was Nadal's attitude that helped him to win so many titles.
Only one thing that can be an obstacle on Nadal's path is his knee injury, which forced him to remain sidelined for eight months. When he returned to court after such long break, Nadal looked like a shadow of his former self. However, it was his victory over David Ferrer in Acapulco that gave the audience a glimpse of old Rafa.
Nadal seems to be in great shape coming to Roland Garros and the stats clearly show that, as he had an amazing year so far, winning as many as six titles and finishing as a runner-up in two finals. His comeback after injury makes Rafael more dangerous for his opponents, as he now seems to be a bit more aggressive on the court than usual.