UK Today News: Frontman of Type O Negative Peter Steele Dies

Peter Steele,the frontman of the Brooklyn-based goth/metal band Type O Negative, died from heart failure. Peter Steele was 48 years of age.
Type O Negative had great hits such as "Christian Woman;" "Black No. 1;" "My Girlfriend's Girlfriend;" and the recent "September Sun."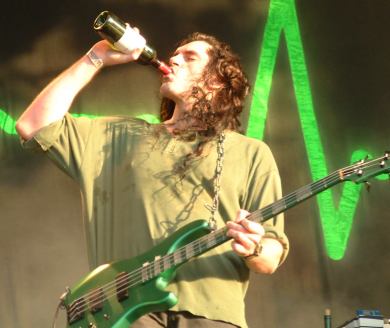 Peter Steele playing bass and singing.

Type O Negative's publicity firm, Maple Jam Music Group, released the following statement today:
It is with great sadness that we inform you that Type O Negative frontman and bassist, Peter Steele passed away last night of what appears to be heart failure.
Longtime Type O Negative band manager, Mike Renault said that,
"Ironically Peter had been enjoying a long period of sobriety and improved health and was imminently due to begin recording new music with bandmates Josh Silver, Kenny Hickey and Johnny Kelly for a follow up to "Dead Again" released in 2007."
The autopsy results will determine the official cause of death.
The funeral services will be private and memorial services will be announced at a future date.
For the Bands and family statements check Type O Negative official website www.typeonegative.net shortly.